5 Mortgage Mistakes to avoid in 2018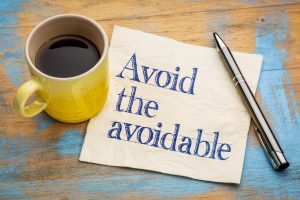 1. Shopping for a house before talking to a mortgage professional.
Talk to a mortgage professional about getting Pre-Approved for a home loan before you start to seriously shop for a home. It's more fun to look at homes than it is to go over your financial situation with a lender, but that's what a lot of first-time home buyers do. They look at properties before knowing how much they are able to spend on a home. Often times, people get disappointed when they find they were looking in the wrong price range, usually too expensive, or when they find their dream home, but aren't able to make a serious offer. How to avoid this mistake: Talk to a mortgage professional about getting  Pre-Approved for a home loan before you start to seriously shop for a house. The process involves a review of your income, debts and credit. It can make your bid more attractive because you'll be able to show sellers that you can back up your offer. All competent Real Estate agents make their Home Buyers get Pre-Approved by a mortgage professional prior to showing them houses. Otherwise it is a waste of time.
2. Finding the right Lender
According to the Consumer Financial Protection Bureau, 47 percent of buyers never considered more than one lender. Talk to at least 2 different mortgage professionals. Interest rates are easily found online but beware that there are many uncertainties with an online lender, and while they may advertise a slightly lower rate, there may be hidden costs involved. In addition to a good rate, you want to select a lender that provides good service and is available to you when you need them. Your lender should help you evaluate and understand the total cost of your loan to help you save as much money as possible. One way to know if you are working with a professional lender who is looking out for your best interests is to have a face-to-face consultation or, at the very least, a phone call to analyze your options and get all of your questions answered.
3. Opening new Debt
The most common mistake that buyers could be tempted to make during the contract phase is opening up new lines of credit or increasing their debt.
Once a contract is signed to purchase a home and an application for a mortgage is made, it's crucial that you keep everything stable. It's not the time to charge new appliances on your credit card, or be lured into a zero percent interest deal on new furniture.
4. Changing Jobs
A change in employment or income is another common problem. Most lenders like to see at least two years of consistent income history when approving a loan, so changing jobs while under contract can be a big issue. If you're switching companies, but maintaining the same career and level of pay, you may be okay. However, if you change careers or move from salary to commission, you will most likely have to wait a while before obtaining a loan. If there is even a consideration of a job change, talk to your mortgage professional about it during the initial consultation.
5. Know the real cost of Home Ownership
When buying your first home, it's easy to compare your anticipated mortgage payment vs. your current rent, There are hidden costs to purchasing and owning a property. First-time home buyers need to factor in an increase in expenses from renting to owning. If you purchase a bigger house, there are increases in heating or cooling costs. And homes need maintenance; when you're renting, if the water heater or the furnace goes out, you don't have to pay for it; your landlord does. There are also costs for cleaning, yard work, insurance, transportation, homeowners' association dues, and of course, property taxes. So think about your total monthly budget, not just your monthly mortgage payment, before you start your search.